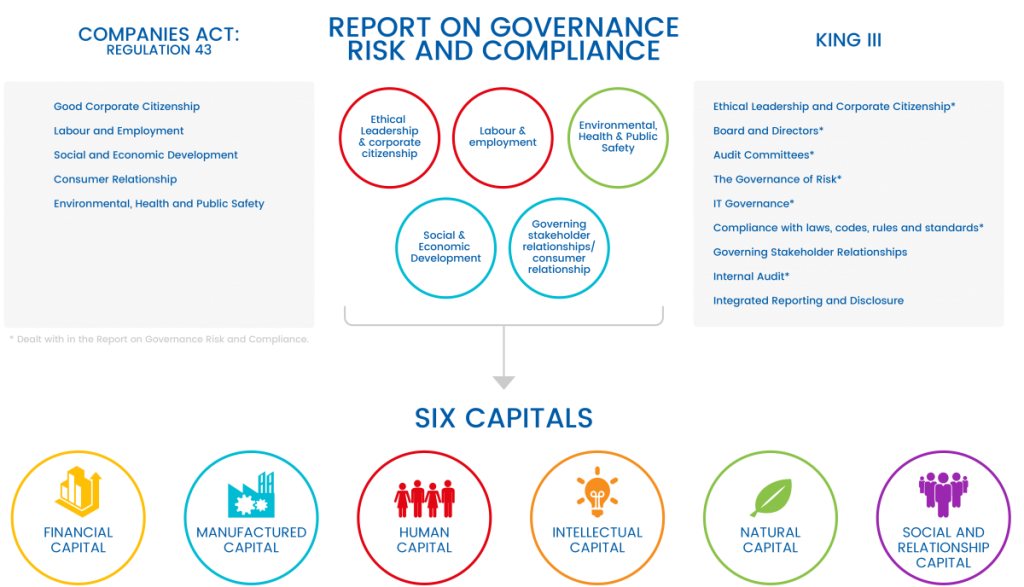 Clover's vision and mission has been aligned to the value chain as we consider strategy, risk, governance, performance and sustainability to be inseparable.
Overview
This report is structured to incorporate the requirements of the Companies Act 71 of 2008 (Regulation 43) and King III. Clover also utilises the Integrated Reporting Framework ( framework) as issued by the International Integrated Reporting Council (IIRC) in December 2013.
The IR framework provides a principle based approach through which Clover describes how the key components of the value chain (or business model) are applied to create and sustain value for our stakeholders. This Social and Ethics Committee report utilises the framework concept of "the six capitals". These are the material inputs, outputs and outcomes that flow through Clover's business model to create and sustain value in the long term.
Scope and boundary
The scope of this report covers Clover's South African operations and will in time be extended to our subsidiaries in other countries. This report focuses on the most relevant and material issues that could impact significantly on Clover's ability to create and sustain value for its stakeholders in the long term.
Clover is one of few South African businesses that has thrived for well over 100 years. We recognise that to survive and prosper, we need to ensure that Clover's operations and planning is geared towards long term sustainability.
Clover's Social and Ethics Committee (the Committee) is Chaired by an Independent Director and includes a further two Independent Directors and one Executive Director. Details of the Committee membership, meetings held and attendance in this financial year are set out here as part of the Directorate and management section.
The Social and Ethics Committee has considered the matters of the Integrated Annual Report that are pertinent to Clover. The responsibilities and functioning of the Social and Ethics Committee are governed by formal terms of reference approved by the Board and is subject to regular review. The main objective of the Committee is to assist the Board in ensuring that Clover remains a responsible corporate citizen that utilises sustainable business practices. The Committee monitors, develops, reviews and enhances Clover's social, ethical, environmental and governance impact. To fulfil its responsibilities, the Social and Ethics Committee adopted a formal work plan that accords with its functions as set out in Regulation 43 of the Companies Act and King III. This work plan is designed to enable Clover to fully discharge its statutory functions. The Board supports the Committee by setting the appropriate tone at the top and Clover's "Way Better" philosophy across the organisation contributes to Clover's ethical culture. This report describes the work and conclusions of the Committee in its fifth year of establishment. Over and above the requirements of the Act, this report's scope includes guidelines from the <IR> framework and the sustainability reporting guidelines (G4 version) of the Global Reporting Initiative (GRI). In short, the aspects of Clover's business most critical to its long-term value creation are summarised in terms of the six capitals principle.
Every year, Clover redefines its risk bearing capacity and risk appetite, and utilises these as the basis for setting materiality levels. Following that exercise, these materiality levels are used to adjust the thresholds of Clover's delegation of authority, so that appropriate levels of managerial approval are set. These same materiality levels are used in Clover's Enterprise Wide Risk Management Framework, which ultimately ensures that all material risks are reported to the Board Committees and considered for inclusion in Clover's Integrated Annual Report. In line with the <IR> framework, Clover only reported on issues it believes to be sufficiently material for inclusion in this Integrated Annual Report. Less significant matters are reported on the website and elsewhere.
Ethical leadership
Clover has established a philosophy that respects the rights and dignity of others. We are aware that our decisions influence others, therefore our philosophy guides our thinking and decision-making processes. The principle of ethical leadership is integrated into our vision and mission, and guides our people in the way they execute their functions and projects. Ethical and effective leadership drive Clover's strategy to grow a sustainable business that considers its long and short-term impacts on the economy, society and the environment. Clover's committed to promoting equality, and preventing unfair discrimination in all forms.
Clover's approach to ethical leadership draws on the principles recommended by:
The United Nations Global Compact
The Organisation for Economic Co-operation and Development (OECD) principles on corruption.
Those of the International Labour Organisation (ILO).

The OECD recommendations on corruption.
Clover is committed to conducting its business activities in a manner that enhances our values, which include ethics, integrity and compliance with the law. Corruption can occur in many forms, including extortion, nepotism, embezzlement, bribery, cronyism and patronage among others. Corruption impacts directly or indirectly on Clover's sustainable development and that of our stakeholders. Clover's business processes, employee behaviour and daily activities at all levels of the organisation are conducted in accordance with the OECD recommendations on corruption. Further disclosure on the combating of corruption can be found in the Report on Governance, Risk and Compliance. To ensure compliance with these principles, our HR function and Risk Department conduct annual evaluations of suspected or reported incidents of corruption. During this reporting year's review, no material deviations were reported.
Our ethical leadership principles regarding corruption are outlined in the Report on Governance, Risk and Compliance. Clover conducts ethics awareness campaigns at all our operations and has formalised an Ethics Policy, which is published on the company website.