Clover launches new cheese
Clover launches new quick and easy preservative free individually wrapped processed cheese slices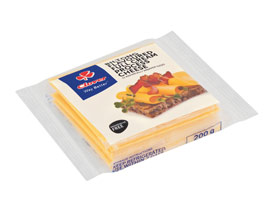 When it comes to a simple yet satisfying meal on the go, it's hard to beat the cheese sandwich. Whether it's lovingly made by mom and tucked into a school lunchbox, is a quick bite wolfed down between meetings or is a fast, easy late-night meal, there's no denying that the humble cheese sandwich is always delicious and gratifying.
For many South Africans, the choice of what goes into a cheese sandwich is easy: it has to be Clover Cheese. Like all Clover dairy products, Clover cheese is made to the highest quality standards and with the care and dedication that has ensured Clover is always the first choice for fans. For over 100 years, Clover dairy products have been a firm favourite at family mealtimes. While this is mainly due to simply producing great-tasting products, Clover understands that making even the simplest of  mealtimes  Way Better is also about providing consumers with products that make their lives easier.
This is why Clover is proud to announce the launch of the new Clover Individually Wrapped Processed Cheese Slices. "Consumer trends show that today people place a high value on convenience, and our new Individually Wrapped Processed Cheese Slices offer exactly that," comments Senior Brand Manager, Sherian King.  "Because they are individually wrapped, there is no need for cutting, giving consumers the convenience they need and value for money. Plus they are delicious too."
"Many Clover fans are conscious of food ingredients, so we are also proud of the fact that our new Individually Wrapped Processed Cheese Slices are preservative-free," adds King.  South African moms can now rest at ease, knowing that not only will their children enjoy these new convenient processed cheese slices, but they also won't be ingesting any unnecessary preservatives.
Clover Individually Wrapped Processed Cheese Slices are priced at R17.99 for 200g, R34.99 for 400g and R77.99 for 900g (recommended). (Biltong flavour not available in 900g pack) And with four delicious flavours from which to choose – Cheddar, Gouda, Sweet Milk and Biltong – the humble cheese sandwich will continue to be a favourite any time of the day.