Clover IWS Magwinya Mama
Stemming from the hugely successful KOTA campaign from 2013, Clover has set its sights on improving another already loved South African meal, the amagwinya (or vetkoek) for 2014.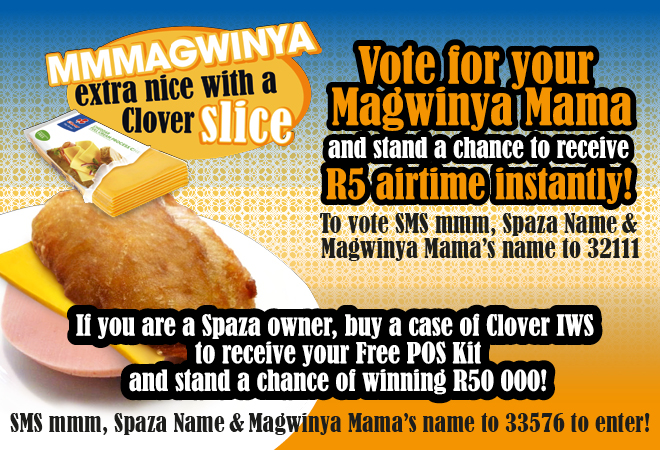 Approaching spaza owners through wholesale activations and roaming cash van teams, Clover plans to bring the quality taste of their individually wrapped sliced cheese to the community on competition-winning amagwinya! Participating owners must seek for their best Magwinya Mamas within their community and sell her popular breakfast from his store to stand a chance of winning R50 000 in CASH for him and R50 000 for her!
Winning communities will also receive a R50 000 make-over courtesy of Clover!
The campaign will focus promotional efforts in Gauteng, KwaZulu Natal and in the Western Cape and make effective use of posters, flyers, roadshows, ads in the Daily Sun and 30" radio spots on Y-FM! Communication will drive awareness and encourage consumers to vote in order to stand a chance to get their share in R75 000 instant airtime and to make sure the R50 000 community prize comes to their community!
The campaign will start on 20 September within wholesalers and retailers, bolstered with out-of-home Cash Vans an Roadshows, closing on 30 November 2014.
The campaign sms'es will cost R1.50 each and participants will walk away with the best amagwinya's in town and for the lucky few, R5 in instant airtime!
MMM! Extra nice with a Clover Slice!