Food, family and fun in Clover's Little Big Cook Off, episode 3
So far, it's been all fun and excitement as Clover's Little Big Cook Off (#CloverLBCO) teams have whipped up a cooking frenzy in the first two episodes.
In Episode 2, teams El Shaddai, Flour Power, and Shakers & Bakers battled it out with traditional flavours and some daring twists, with Flour Power and Shakers & Bakers making it to the next round. Team El Shaddai will have to wait until the Wild Card episode on 26 July to get back into the kitchen.
In Episode 3, we watched Teams Magic Mix, Colourful Tangy Twist, and Babulicious rise to the challenge in the Way Better™ kitchen, and enjoyed their personal expressions of family togetherness – the essence of Clover's Little Big Cook Off.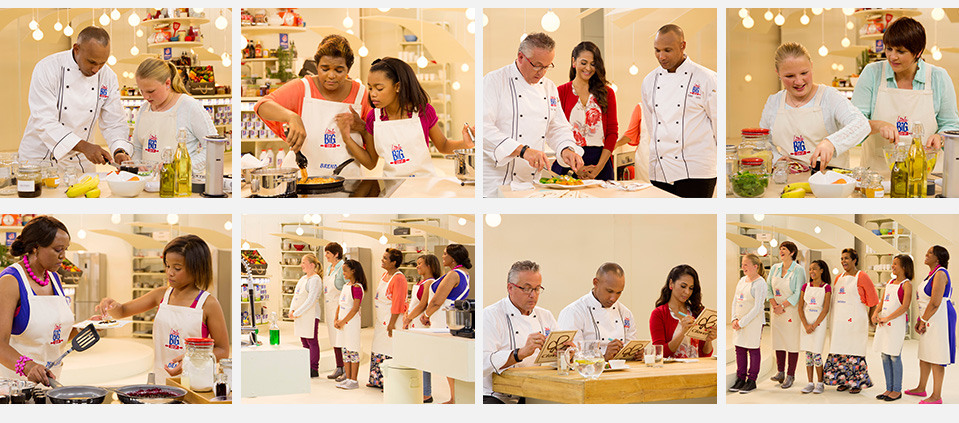 Magic Mix, mother-and-daughter Elize (46) and Lize (12) Archer, from Cape Town, entered #CloverLBCO because they love cooking together and believed it would be a great opportunity to learn. Lize is calm and confident in the kitchen and mom Elize is very supportive, allowing her to try new dishes. While Elize completes her PhD at Stellenbosch University, Lize cooks at home to help out. The family enjoys playing what they call "mystery box". Once a week, Lize uses mystery ingredients in their own cook-off competition.
Aunt-and-niece team, Jennifer Babu (44), from Midrand, and Demi Babu (12), from Alberton are team Babulicious. Jennifer and Demi love cooking together, and their personalities definitely come through in their food – they're warm, bubbly, curious and confident, and their meals have that special Babulicious touch. They would love to win so that Jennifer can give her mom (Demi's grandmother) the kitchen she's always wanted. Both Demi and Jennifer are inspired by Barack Obama's "Yes we can" speech, which Jennifer calls a "powerful mouthful". Winning this competition will reinforce their will to persevere through life's challenges.
Brenda (41) and Elenor (13) Mitchell are mother-and-daughter team Colourful Tangy Twist and hail from Nelspruit, Mpumalanga. Their skill in the kitchen is enhanced by teamwork, spirit, and a love for tasty food. When they saw the first season of Clover's Little Big Cook Off, Brenda said to Elenor, "This is for us!" So, when entries opened for Season 2, the two eagerly entered. Elenor says, "We always put special twists to our recipes to make them creative!" In the Mitchell household, Brenda is the cook, while Elenor's dad loves to bake.
Magic Mix's family Bobotie with a twist, created with Clover's Fresh Cream and the Classic Yoghurt made this recipe extra special. Babulicious mixed both Clover Fresh Cream and Sour Cream into their family favourite Summer Curry Chicken Salad & Cheesy French Loaf Slices. Colourful Tangy Twist's recipe was Chicken a la Creamy Pasta, made with Clover Fresh Cream. Brenda made this dish for Elenor's 12th birthday "cooking show"-inspired sleepover.
Each team was judged on creativity and teamwork, as well as the five senses (sight, smell, sound, touch and taste) for their family dishes and creative baking challenge. Babulicous & Magic Mix earned top marks and will proceed to the next round, while Colourful Tangy Twist will return for the Wild Card episode.
There is one more episode left until the anticipated Wild Card episode! Tune in to SABC 3 at 16:30 next week Sunday, 19 July to meet three new family teams who will compete for the chance to make it to the second round.