Clover Mama Afrika founder awarded at North West University Awards
Professor Elain Vlok, Manager of Corporate services at Clover and founder of their social responsibility project, Clover Mama Afrika has yet again been recognised for her contribution to South African society at the North West University's third annual Alumni Awards ceremony held in Sandton on Friday, 9 October 2015.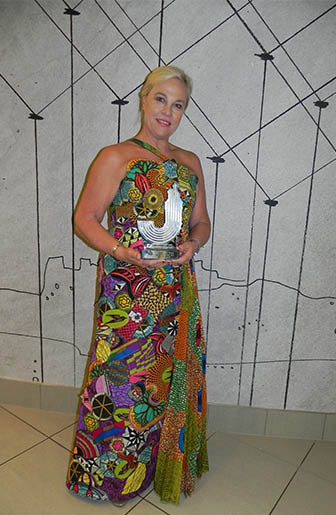 Having spent 24 years at Clover and starting the Clover Mama Afrika project in 2004, Prof Vlok has received numerous awards throughout her career, but she holds the recent accolade from the university in high regard. "It is such an honour for me to receive an award from my former university where I was once a student and lecturer and learned the trade from my amazing colleagues and mentors. I'm so grateful for the acknowledgment of my contribution in my community and the society as a whole. I will take this achievement as motivation to continue the paths that I've chosen in both the communications and community upliftment sectors," said Vlok.
She was one of seven alumni who received an award for making their mark locally and also internationally for their exemplary achievements. Vlok holds several degrees, amongst others a Doctorate in Communication obtained from the former Potchefstroom University for Christian Higher Education as well as Masters Degrees in Zulu and Sociology. She is a Clover Supernova award recipient and an accomplished motivational speaker.
The 2015 recipients follow in the illustrious footsteps of great alumni previously honoured with these awards such as the late Prof TT Cloete, Mr FW de Klerk, Judge Yvonne Mokgoroe, Dr Bismark Tyobeka, the late Adv Jan Henning, Prof Pieter Stoker and Mr Alec Moemi among others.  "Through their many accomplishments and acts of service, these outstanding alumni have made the NWU and South Africa proud. Their achievements are just one of the ways of showcasing the excellence of the NWU. We are proud to boast such a distinguished stakeholder group," said Prof Dan Kgwadi, vice-chancellor of the university.
For more information on Clover Mama Afrika visit www.clovermamaafrika.com