MULTIPLE AWARDS FOR CLOVER: 188TH SA DAIRY CHAMPIONSHIPS
After one of the most challenging years which was 2020, we are extremely proud to have been part of the 188th South African Dairy Championships which took place on 25 and 26 March 2021 at the Elsenburg Agricultural College.
This year's event was much smaller than previous years and took place under strict Covid-19 protocols to ensure the safety of everyone involved. Over 900 dairy products were judged over two days, and a team of 30 judges was part of the process to choose the South African Champions, Qualité Award winners and the South African Dairy Product of the Year.
The SA Dairy Championship creates a special platform to promote excellence in the dairy industry. Only the best of the best from each manufacturer is entered and therefore the judging has become the national standard according to which large and small manufacturers – from international companies to small cheesemakers – measure themselves every year.
This year, Clover walked away with two Qualité awards in the Salted Butter category. This is a major achievement, as the Qualité award is the only mark of excellence for dairy products in South Africa and is awarded only to products of exceptional quality. Only eight products were awarded with this achievement this year.
Clover would like to take the opportunity to congratulate all their co-competitors in this year's Dairy Championship on the awards that they took home, and the Agri-Expo institution for all their hard work in making sure this prestigious championship was made possible in these trying times.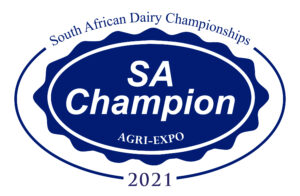 Clover's 2021 Awards:
Category: Salted Butter
Qualité Award: Clover Mooi River Salted Butter
Qualité Award: Clover Butter Salted Mini Tubs
Category: IWS Processed Cheese Slices – Any Packaging, Fat Content or Flavour
1st place: IWS Processed Cheese Slices – Polony
Category: Processed Cheese Bulk Blocks – Any Packaging, Fat Content or Flavour
1st place: Clover Berg Processed Cheese Bulk Blocks
2nd place: Clover Processed Cheese Bulk Blocks
Category: Rindless Gouda – Maximum Age: 2 Months
2nd place: Clover Rindless Gouda Maximum Age 2 Months
Category: Feta – With Condiments
2nd place: Feta with Condiments – Herbs
Category: Feta – Without Condiments
3rd place: Clover Feta without Condiments – Tub
Category: Unsalted Butter
1st place: Springbok Unsalted Butter 500 Gram
Category: Full and Medium Fat Modified Butter
2nd place: Butro Butter Spread
Category: Double Cream Yoghurt – Plain
3rd place: Authentikos – Greek Plain
Visit Cheese SA's page for the entire list of winners, which also includes all of Clover's placements. We warmly congratulate our co-competitors on their achievements.