Introducing Clover's new long life milk!
Clover is always looking for new ways to innovate and improve: from the milk to the process to the packaging. Now we are proud to bring you a new long life milk pack that is way better than before.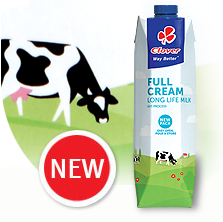 The secret lies in our new cap, which brings you the following benefits:
it cuts the inner-foil seal as you twist it, which means the ring-pull is a thing of the past.
the larger cap is easier to open;
it is more comfortable to grip;
the seal has a tamper-proof evidence ring, and
there's a 30% bigger pouring area for smoother product flow and less gulping!
WHY NOT TRY IT FOR YOURSELF?
IT'S EASY TO OPEN WITH JUST ONE TWIST, AND SO EASY TO POUR!