Tropika Island of Treasure
Tropika Island of Treasure is back and better than ever! The sixth instalment of the hit reality TV show brings a whole new game this year! The completely new format means a completely new experience for lucky consumers.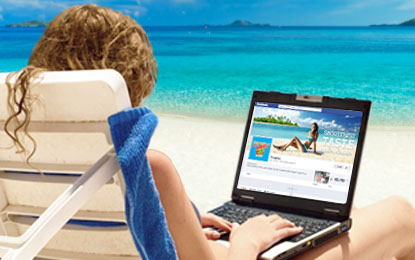 Celebrities have been taken out of the mix, making YOU the star! What else is different about this year's show?
If you're going to be a star on the show, you have to live like one. This time round Tropika introduced Da Smoooth Life. A life filled with glitz, glam and ultimate swag. Contestants that are chosen for the TIOT6 reality TV show get to live Da Smoooth Life for four days, with three of their closest peeps. Da Tropika Smoooth Life includes four days in a luxury penthouse for the winner and his/her friends, a complete lifestyle makeover, a chauffeur-driven limousine, spending money and an insane VIP party, thrown in their honour, at an exclusive entertainment venue.
Like we said, if you want be a star, you've got to live like one, and who better to learn from than a celebrity all-star from previous seasons of the Tropika Island of Treasure reality TV show? Another awesome part of Da Smoooth Life package is a mentorship from an ex Tropika Island  of Treasure celebrity. Their job? To show you how to make it to the top and live it up in the limelight.
You're almost ready to be a star. Now the world needs to know who you are. Each winner gets a 3-minute television insert, showcasing their "Smoooth Life" experience, on the SABC 1 lifestyle shows RGB and Live Amp. They also get a full editorial in Drum Magazine.
So we've seen you on TV and in magazines. Now we move on to a studio to record your very own radio advert promoting yourself, and the competition. That's not all though. You also feature in a Tropika Island of Treasure 6 double page print ad.
So you've pretty much done it all. You lived a high profile life, you've featured on all kinds of media, and you've brushed shoulders with the country's top celebrities at your VERY OWN exclusive VIP party. Now there's one final step; Tropika Island of Treasure 6.
In March 2014, all six winners will jet off to Mauritius to compete for the ultimate treasure; R1 000 000! Pearl Thusi, a young, funky SA celebrity, and previous contestant on Tropika Island of Treasure, will host the sixth instalment of the show.
So far, Tropika has chosen three winners to live Da Smoooth Life and compete in Tropika Island of Treasure 6; Thando "TDO" Hlope, an aspiring business man and entrepreneur, Boitumelo "Diamond" Seakatsi, a budding musician and Mohau Pitso, a future Sports Anchor. Each had their VIP experience in Johannesburg, Durban and Cape Town, and now it's your turn! Buy a Tropika, find the unique code on pack and dial *120*903*uniquecode# and you could fill one of the last three spots.
Six contestants, one island, one million reasons to win! Don't miss out, buy a Tropika, enter and who knows, you could walk away with a Smoooth R1 000 000!
Tropika, Da Smooothest Taste Under Da Sun.