Clover 2014 Unaudited Interim Condensed Consolidated Results
Final – for immediate dissemination Clover reports significantly improved half-year results on the back of cost recovery and firm industry demand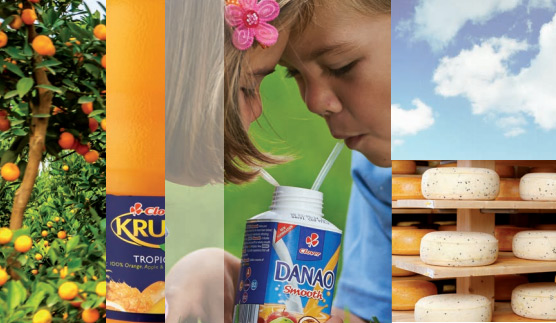 • Revenue up 7,9% to R4,7 billion
• Operating profit up 36,8% to R321,7 million
• Operating margin improved 1,5% from 5,4% to 6,9%
• Headline earnings per share increased by 41,3% to 109,2 cents
• Interim dividend of 22,6 cents per share declared, up 41,3% on the 16 cps declared in the comparative period
17 March 2015 – Clover Industries Limited ("Clover", "the Group" or "the Company"), a leading branded consumer goods and beverages group operating in South Africa and other selected African countries, today announced significantly improved interim results for the six months ended 31 December 2014.
Commenting on the results, Johann Vorster, Clover Chief Executive, said: "During this first six months we successfully recovered significant cost increases in raw milk and other costs incurred in the prior financial year. These cost increases also provide for expected inflationary cost increases during the current year.
"As a result, our gross margins, which deteriorated sharply in the exceptionally tough second half of last year, have been restored to normal levels.
"The increased selling prices and profitability did however impact on volumes as expected, resulting in market share contraction across most categories.
Revenue increased by 7,9% from the previous corresponding six months to R4,7 billion mainly as a result of selling price increases implemented in June 2014. Gross margins commensurately improved to 31,0% compared to the 28,0% reported in the comparative period. Clover's operating margin similarly increased to 6,9% from 5,4%. (Excluding the effect of raw milk sold to Danone at cost, the operating margin improved from 5,8% to 7,1%. The supply agreement with Danone terminated end December 2014.)
Revenue from the sale of products increased by 11,0% to R4,1 billion. Overall price inflation came to 14.2%.
Higher selling prices coupled with low inventory levels at the start of the period following the raw milk shortage in the winter of 2014, resulted in volume and market share losses in most categories. As a result, overall sales volumes declined by 3,2% compared to the prior corresponding period.
Revenue from principals for services rendered ended 12,0% higher at R453,3 million on the back of annual tariff increases and additional contract manufacturing income from Clover's Bethlehem creamer factory.
Cost of sales increased by 3,5% (7,7% excluding raw milk sold to Danone.) Raw material costs increased by approximately 10,3% (excluding raw milk sales to Danone) mainly as a result of 3,2% lower sales volume and 15% farm gate milk price increases in 2014.
Packaging charges increased by 10,3% on the back of substantial cost increases during the prior year.
During the reporting period, Clover invested R47,6 million more in research, development, marketing and advertising, that mostly accounted for the higher than inflation increase of 11,2% or R100,4 million in selling FINAL – FOR IMMEDIATE DISSEMINATION and distribution expenses. The phasing out of raw milk supply to Danone led to a 5% decline in milk collection costs, despite annual inflationary increases.
Commenting on the way forward, Vorster remarked: "Despite strong growth in national milk supply, current high farm gate milk prices are expected to continue as a result of competition for raw milk, and will likely only reduce after the winter of 2015.
"Should this continue without alternative markets being sourced, an increasing national oversupply of raw milk is likely to gradually pressurise market prices going forward.
"Although our milk procurement system will protect Clover from an oversupply of raw milk, the Group will still be exposed to potentially lower market prices.
"Although continued pressure on consumer spend, the Danone exit and the worrying trend in milk production will likely see pressure on second half gross margins, we remain confident of achieving solid full year results.
"We will continue to focus on fully utilising our capacities and the asset base that was heavily invested in during the past four years.
"The DairyBelle acquisition has provided us with access to yoghurt and UHT milk manufacturing facilities in the Bloemfontein (yoghurt) and Western Cape (UHT milk) regions respectively. In addition to our yoghurt and custard products, a number of new and exciting category expansions will be launched in the near term."
Clover declared an interim dividend of 22,6 cents per share. This represents a 41,3% increase, in line with the growth in headline earnings per share over the interim dividend of 16 cents per share paid in April 2014.