Tropika wins "Product of the Year 2016" Award
Johannesburg, South Africa – It seems like Tropika, South Africa's number one fruit juice-based brand, can do no wrong. In 2015, the brand launched a new payoff line "Nothing Smooother" and a highly successful campaign "Smoooth Trip in Every Sip", which resulted in a market share high of 74.7% over the campaign period (Nielsen, 4 MM Dec '15). Further to this, the brand has also just won the coveted "Product of the Year 2016" Award at the Innovation Awards.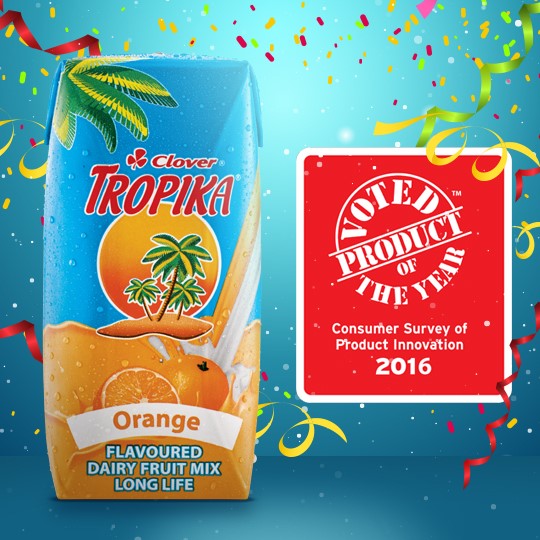 In a survey conducted by leading global information and measurement company Nielsen, and involving over 5 000 South African consumers, Tropika Long Life 200ml came out tops as the "Product of the Year 2016" in the Dairy Beverages category. This is the first time that Tropika Long Life has won a "Product of the Year" award, making the victory just that little bit "smooother" for the brand.
"We could not be prouder of this award, which is one of the many fruits resulting from conceptualising an intensive brand strategy, implementing consumer feedback and conducting even more consumer research," says Miantha Padayachee, Tropika's Brand Group Manager. "I would like to congratulate and also thank every single person who is involved in the Tropika brand for being so relentless and passionate about it."